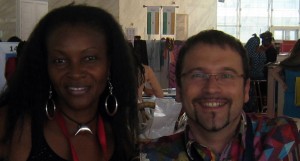 Miss Kpan is a Social Entrepreneur. In April 2008, she and three other women from Liberia were selected to participate in a "Training and Mentoring Program for Women Led Business" project in Dakar, Senegal, and Madrid, Spain. Other participating countries were Seneal, Mozambique, Rwanda, DRC and South Africa, which were made up of 24 women. This project was supported by the government of Spain, implemented by Femmes Africa Solidarite, Senegal,  and Instituto de Empresa (IE), Spain.
The Training work shop was to provide participants with best practices in negotiation in order to achieve better agreements in the business environment and to professionally present their business plans to potential investors and institutions. The workshop was hosted by Casa Africa, a regional office of Spanish Cooperation in Las Palmas. Casa Africa mission was to build and improve cultural, social and economic partnerships between Spain and African countries. 
There were 10 best business plans that were selected by the Jury and Miss Kpan is one of the proud winners of the "African Women Led Business Award 2010" selected by the jury to be presented to investors and institutions.
Ms. Kpan a Liberian, who lived in Accra, Ghana for seventeen years as a refugee.  She worked and walked the streets of Accra braiding hair for survivor. During the dark days, what kept her up and going was to see her only son get a better education. Friends laughed at her, but she kept telling herself, "It doesn't matter where you are coming from, Tina, what matters is where you are going".  She saved money and opened a beauty salon called Petina Beauty Salon. When that didn't go well, she traveled to Sierra Leone where she learned Batik Art. She also worked with Sex Workers trained them in Batik art, sewing and basket weaving with partner of DONWEL a NGO. Her passion for fashion and art and sense of community, led USAID to sponsor the first Art and Craft exhibition and Fashion Show ever to be held in Freetown, Sierra Leone. The over thrown of the government in Sierra Leone in 1997, she migrated back to Ghana where she opened a batik training school. She trained Liberian refugees funded by AGDRP, funded by UNHCR, Cameroonian and Ghanaians. The proceeds from the training, she started a small sewing business in her living room of her home, employing three workers. Six months after, the business gained momentum. She opened a mini factory employing 13 full time workers and 12 part-time workers, exporting her wears to USA, Britain and Botswana. Ms. Kpan decided it was time to return home to help build her country. Before her departure, she enrolled in a training program in Accra, Ghana called President Special Initiative – PSI for textile technique and industrial sewing. 
Three years ago, Miss Kpan migrated home to set up an apparel manufacturing company to train and work with women and men who are less privileged. At present Miss Kpan runs an NGO called KaSaWa Fashion House. All profit from sale goes towards the up keep of Charity Orphanage Home that is made up of 25 children from the ages of 4 to 12-year old.
KaSaWa is looking up for any assistance, whether in cash or kind (Volunteer teachers, School Books & Accessories, Clothes, Toys, toiletries, etc.) to help give these children a better future.
KaSaWa is also looking out for potential international and local hold sale buyer for her products to raise enough funding to provide quality education and housekeeping for a better future for these children. As Liberia is brain drain, Kasawa aim is give these children quality education, good leadership ability, patriotism and a sense of community which is locking in our society. KaSaWa management wants these children to have a home full of love and care, for they are Liberia's future leaders.
Tina J. Kpan
If you wish more information and you would like to contribute, please visit: http://www.kasawa.org/team/team-home.html