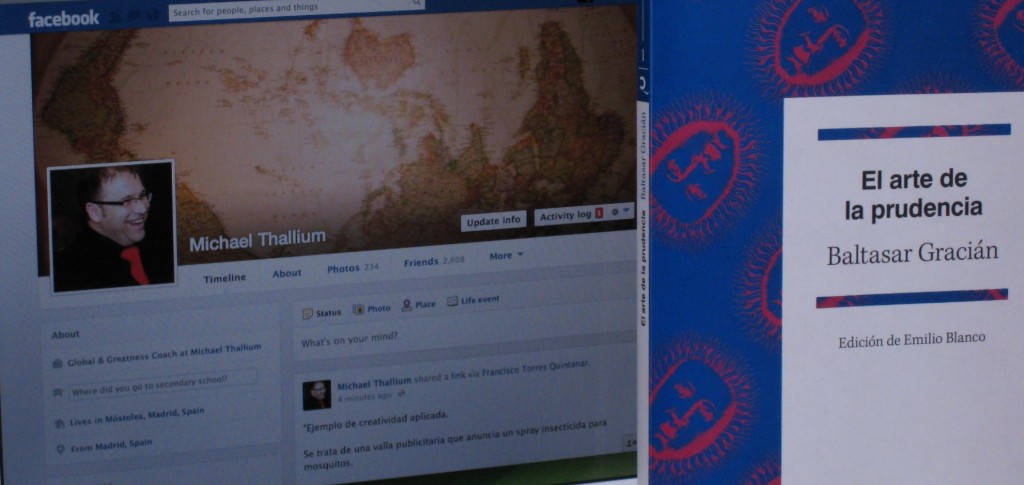 When I impart my language lessons in business companies, I always try to use the methodology of coaching. A couple of weeks ago, in a one-to-one English session, one of my pupils, -a businessman from Spain with whom I had been sharing the teachings and methodologies of Jim Collins, Steven R. Covey, Jennifer Sertl, Edward de Bono, Daniel Pink among others- made a comment that caught my attention (he not only wants to improve his English level but to elevate people through leadership). He said that someone had given him El arte de la prudencia, a book by the Spanish writer from the 17th century Baltasar Gracian,  as a present. He had started reading it slowly, tasting it. He told me he wanted to stop reading business and leadership books in English for a while, because that little book by Gracian was helping him consolidate all what we had been doing over the previous months. Gracian's book is a fantastic leadership book, he said. His comment aroused my curiosity. This pupil not only stands out because of his enthusiasm for improving his English level day by day, but also because of  his eagerness for leading people in the industry of the 21st century.
So, right after that English lesson, I went straight away to a bookshop and bought a copy of Baltasar Gracian's book. Nothing special so far, don't you think? However, I was surprised when I found out that the English version of this book, The Art of Worldly Wisdom, has been a bestseller since Christopher Maurer did his translation into English back in the 1990s -there is an older translation by Joseph Jakobs, back in 1892. Then, what's special about it? Very simple. To me it's really great and amazing that 366 years after Baltasar Gracian wrote his book, this Spanish Jesuit priest has now turned into a kind of leadership and management guru for many people.
"Three things go to a prodigy. They are the choicest gifts of Heaven's prodigality—a fertile genius, a profound intellect, a pleasant and refined taste. To think well is good, to think right is better: 'tis the understanding of the good. It will not do for the judgment to reside in the backbone: it would be of more trouble than use. To think aright is the fruit of a reasonable nature. At twenty the will rules; at thirty the intellect; at forty the judgment. There are minds that shine in the dark like the eyes of the lynx, and are most clear where there is most darkness. Others are more adapted for the occasion: they always hit on that which suits the emergency: such a quality produces much and good; a sort of fecund felicity. In the meantime good taste seasons the whole of life." – Baltasar Gracián (1601-1658), The Art of Worldly Wisdom.
Now, it's up to you, dear Reader, to leave a comment below or, failing that, to start practicing the art of worldly wisdom…
Michael Thallium
Global & Greatness Coach
Book your coaching here
You can also find me and connect with me on:
Facebook Michael Thallium and Twitter Michael Thallium