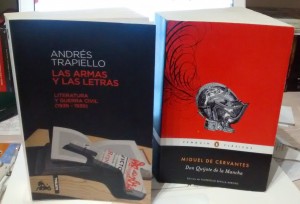 December 2015 was a particular month for me. It was the month when I undertook the reading of two books: "Las armas y las letras" (Arms and Letters) by Spanish writer Andrés Trapiello and "The Ingenious Gentleman Don Quixote of La Mancha" by Miguel de Cervantes. I recommend "Las armas y las letras" to anybody willing to learn something about Literature and History during the Spanish Civil War. It's a reference book which left me a very good taste in the mouth. I really encourage you to read it (I don't know if there is an English version). Reading "Las armas y las letras" acted as a spur to undertake the reading of "Don Quixote", although I must admit I did it more "out of stubbornness" rather than pleasure.
I have tried to read "Don Quixote" umpteenth times along my life and umpteenth times I gave it up. So, in mid December 2015 I said to myself: "You'd better read it from cover to cover and without stopping; otherwise, you'll never finish it". And that's what I did. It was a fruitful reading. There were moments for real laughter while reading it, but there were also moments of boredom and dull reading. Is "Don Quixote" the best Spanish novel? I wouldn't dare to say so. Is it a very good book? Yes, indeed. However, reading it requires preparation and time.
When I said "out of stubbornness", I meant that my goal was to finish the book once for ever more than doing it for pleasure. In my paticular endeavour there was a personal aspiration which some people may find banal, pretentious and useless. And this was my aspiration: to have read three novels which very few people in the world have read: "Don Quixote" by Miguel de Cervantes, "I The Supreme" by Augusto Roa Bastos and "The Man Without Attributes" by Robert Musil. Actually, there are many people who speak about those books, but I pretty much doubt they have ever read them.
Sometimes, only sometimes, you can achieve your goals just out of stubbornness and in a very irrational way. That can be the only motivation. No more reasons. In my case, I think there may have been a bit of vanity and conceit involved in my achievement. I just wanted to "show off" and be able to finally say I have read those three books.
Conclusion: if you want to achieve something, just undertake it for the sake of it.
Michael Thallium
Global & Greatness Coach
Book your coaching here
You can also find me and connect with me on:
Facebook Michael Thallium and Twitter Michael Thallium