"I cannot express the joy that I feel when I begin to write chamber music -the joy with which I lead the four voices… One feels at home in a quartet, intimate, happy.
Outside it is raining and night is falling, but the four voices pay no attention; they are independent, free -they do as they please and yet they make a harmonious ensemble, creat something, some kind of new entity, a new basis and harmonic whole; I emphasize this, as it is so rare at this time in this world."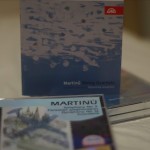 With these words, Bohuslav Martinu (1890-1959) ushers us into the eclectic world of his six string quartets. I cannot say I am a connoisseur of Martinu's music. My short affair with his music started some two years ago when I bought a CD of his symphonies no. 5 (H310) and no. 6 (H343) and his Inventions (H234) performed by the Czech Philharmonic Orchestra conducted by Václac Neumann on the record label Supraphon. However, I must confess that was not my first option. I actually wanted to buy a CD with his string quartets, but, quite strangely, they were nowhere to be found at the music shop I usually visit in Madrid: La Quinta de Mahler. So, I decided to buy that CD and, then, two years later, at the same shop, while I was having a look at some other records, I came up with the recording of the complete string quartets performed by Panocha Quartet. I did not hesitate a minute and bought it, because I knew that recording by Panocha Quartet is very highly regarded by many connoisseurs.
I have listened to the six string quartets just once over the last two days. And I can say that I started to become engaged with Martinu's music when I reached quartet no. 3. For some reason, I found quartets numbers 3, 4, 5 and 6 more appealing to my ears. That does not mean I do not like the two first quartets. The first quartet, known as The French Quartet because of the influence of Debussy and Ravel on Martinu, is the one I like the least, but that only has to do with my personal taste, I guess. I am not very keen on Debussy's music. Quartet no. 2 was a game changer for Martinu and I think you can tell when you listen to the complete string quartets.
Bohuslav Martinu wrote almost 400 works. He was a very prolific composer, but he still remains unkown for most people. And I am sure among all of his works there will be masterpieces for us to enjoy. And this is why I decided to write this short article: to encourage you to discover his music, especially if you are not yet familiar with his music.
Michael Thallium
Global & Greatness Coach
Book your coaching here
You can also find me and connect with me on:
Facebook Michael Thallium and Twitter Michael Thallium