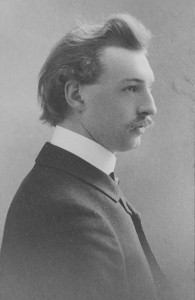 It is often said that a great deal of discoveries are made just by chance, but it is equally said that chance does not exist. Either by chance or causality, the thing is that a couple of days ago, I came across the music of a composer I had never heard of. There is also little information —at least by the time I write these lines— about him on the Internet. It is true there are a couple of websites in English and German where you can find out about him, but information is still scarce. Before unveiling the name of this composer, dear reader, you who have come to read this lines for some reason, let me first unveil the chain of "coincidences" that took me here as well.
Some months ago, I listened to a CD by the Pochekin brothers on the label Melodya. One of the works on that CD is 12 duos for two violins by a Russian composer who is unkown for most audiences: Reinhold Glière (1875-1956). I found his music beautiful. One day, while interviewing Mikhail Pochekin, he told me he hoped that, after their recording, more and more musicians will play Glière's music so that more and more people would get to know him. My curiosity made me listen to more of Glière's music —by the way, I recommend you to listen to the recording of his Symphony no. 3 by JoAnn Falletta and the Buffalo Philharmonic Orchestra on Naxos— and find out about his life. I did so and, lo and behold, I ended up coming across the name of the composer I mentioned at the beginning of this article: Leopold van der Pals (1884-1966). I immediately downloaded the few recordings available of his chamber music: Works for cello & piano and Sonata, Duo, Trio & 3 Fugues, both of them on the Danish label Polyhymnia. I was surprised by the Scherzo of the Sonata-Duo for cello and violin, Op. 55: it sounded modern and genuine. There is also a recording of his Symphony no. 1 in F sharp minor on the German label CPO, which I recommend as well. The little music we know of Leopold van der Pals is due to the efforts of one of his descendants, the Danish cellist Tobias van der Pals. The German composer and organist Wolfram Graf has also written about Leopold van der Pals. It is from them both that I took the information which follows. I do encourage you to follow your curiosity and to listen to the music of Leopold van der Pals. You will be amazed! And if you have a little more time to spend with me now, please let yourself be surprised by the life of this composer as well. May your curiosity always be with you!
Leopold van der Pals (1884-1966)
Although his father was Dutch and his mother was Danish, Leopold was born in the Imperial Russia, in the city of Saint Petersburg. Culture was very present in his family. At age 12, he improvised on the piano and, encouraged by his grandfather Julius Johanssen —a counterpoint professor and director of the Conservatory of Saint Petersburg in the 1890s—, he started to write music. Internationally renowned artists such as Pablo Casals, the brothers Tchaikovsky and Anton Arenski used to visit the home of the van der Pals and play music there. That was a source of huge inspiration for Leopold.
Since he was the elder son, his father wanted him to study law and take over the family business, a rubber factory called "Triugolnik". It was then that the mother of Leopold, Lucy van der Pals, persuaded her husband to allow their son to follow his musical path.
At age 19, Leopold left Russia to continue to study in Lausanne, Switzerland, with the famous composer and theory professor Alexander Denéréas and with the cellist Thomas Canivez. It was then that he started a cosmopolitan journey which marked his music.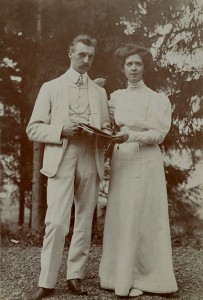 In 1906, he married to Marussja van Behse. She was of Russian origin and the niece of the German writer and Nobel laureate in 1910 Paul Heyse (1830-1914) —by the way, Heyse was considered the best genius after Goethe; Robert Schumann and Hugo Wolf, among others, put music to some of his poems— . Two years later, in 1909, their daughter and only child Lea would be born.
In 1907, after four years of basic musical education in Lausanne, van der Pals moved to Berlin and by recommendation of Sergei Rachmaninov, Leopold received lessons from the Russian composer Reinhold Glière. It was there when Leopold van der Pals made friends with many of the music personalities of the time, among others: Nikisch, Weingartner, Hausegger, Eibenschütz, Havemann, Koussevitsky, Scriabin. In Berlin he also got to know the philosopher and theosophist Rudolf Steiner, who made a great impression on him and introduced the idea of metamorphosical evolvement derived from J. W. Goethe. In fact, on January 1, 1909, van der Pals became a member of the Lodge of the Theosophical Society in Berlin.
In 1910, Berlin was a melting pot in the wake of romanticism. Leopold van der Pals experimented with new harmonic ideas and alternative cadences. It was then when his personal expression, his musical language, was formed. A hybrid of distinct styles: romanticism, impressionism, free tone and inspiration from Russian and Nordic folklore. Van der Pals' music at the time was considered very modern. It was then when he started to give opus numbers to his works, leaving all his previous compositions.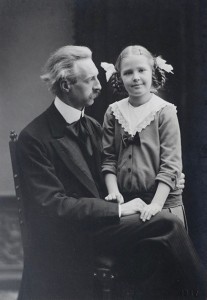 Over a period of eight years in Berlin, from 1907 to 1915, van der Pals was very prolific and wrote his first 30 opuses, concentrating on large works for orchestra and Lieder. His Symphony no. 1 was premiered in 1909 by the Berlin Philharmonic Orchestra under Heinrich Schoultz. At that same concert, a Violin Concerto in A minor was also premiered by the violinist Tor Aulin. The response to Van der Pals' symphony in the press was really good and this resulted in an extensive series of performances of his works around Europe and America. Among others, his Violin Concerto, Op. 10, Symphony no. 1, Op. 4, the symphonic poems Wieland The Smith, Op. 23, Spring and Autumn, Op. 14 and Pan's Death, Op. 24 were played.
In 1915, Leopold van der Pals moved to Arlesheim, in Switzerland, with his wife and little daughter Lea. The years in Arlesheim were good and happy. Leopold's career was going well, his family was well and he composed lots of inspirational music. It was there that he started a long series of chamber music compositions for different ensembles. A string quartet, a piano trio, a duo for cello and violin and sonatas for piano, cello and violin. In 1922 van der Pals completed his Symphony no. 2, Op. 51 for large orchestra. However, the orchestration of this piece was interrupted when Leopold's wife, Marussja, fell ill. In order to treat her condition, the family was forced to leave Arlesheim. A long journey over a period of 11 years started. The family had no fixed home. They stayed in about 80 different places around Europe in search of a suitable sanatorium to treat Marussja's illness.
Hard times came for Leopold van der Pals. Treatments were expensive and Leopold had lots of trouble following his music career. He could not travel to listen to the performances of his compositions. Despite all difficulties, however, Leopold kept working and in that period of time, apart from his chamber music, he also wrote four large works for orchestra: his Symphony no. 3 "Rhapsody", Op. 73, Hodler Suite, Op. 74, based on four paintings by Ferdinand Hodler and two operas, The Mountain of St. Michael, Op. 71 and Iron Hand, Op. 85.
Marussja's passing away in 1934 affected Leopold deeply. He withdrew himself to Ascona, in Switzerland, and mourned his wife's death. In Ascona, Leopold wrote 80 poems dedicated to the memory and love of Marussja. He selected 45 out of those poems and set them to music. The resulting work was his op. 96, In Memoriam, subtitled "To my wife's spirit". Finally, Leopold settled down in Dornach, where he lived for 31 years until his death.
In the early 1930s, van der Pals suffered the loss of many of his beloved: his wife, his dad, and several close friends. As usual, he found his way to express his feelings into music. He wrote his Requiem and his Sonata no. 3 for violin, Op. 101, with a middle movement called "Funeral March". It was then when he took the chance to orchestrate his second Symphony, Op. 51, which had been interrupted due to his wife's illness. The premiered of the symphony was programmed for a recital in Vienna, in 1937, under the baton of his brother Nikolaj van der Pals. At the same recital, his Symphony no. 3 and his Violin Concerto were also performed. The performance was a great success and overwhelming reviews were written across Europe.
Leopold van der Pals' music aroused great interest, but chances of performing his works were soon to be diminished. Modern composers and artists suffered the violent political environment and the rising of international conflicts. By the time WWII started, all chances were vanished. Lots of artists left for the United States, where things seemed to be looking up. Leopold decided to stay in Switzerland, even though that meant to distance himself from the environment of modern music.
Leopold van der Pals remained a true European for his entire life. Born and raised in the Russia of the tsars, of a Dutch father and a Danish mother, studies in Germany and Switzerland where he finally settled down after long years of travelling. He spoke at least six languages, most of them fluently, and his friends and acquaintances came from all over Europe, not only from the musical scene, but also from all culture and literature circles.
The choice of texts for his seven collections of songs (Op. 1–3 and 5–8) reflects his cosmopolitan attitude and openness, which he maintained his whole life. Apart from German and Russian, he also chose Japanese, Croatian and Greek. No matter how many obstacles came across his way, Leopold never stopped creating. Apart from his complete 252 opuses, he also wrote poems, articles, reviews and librettos for his eight operas. When Leopold passed away on February 1, 1966, at age 83, his last work, an opera called Isis, was left unfinished on his piano.
Michael Thallium
Global & Greatness Coach
Book your coaching here
You can also find me and connect with me on:
Facebook Michael Thallium and Twitter Michael Thallium