It was at Fundación Juan March in Madrid when I first saw him play. It was a Sunday morning, cold and snowy, of February 2018. On that occasion, the Moscow born pianist Yury Favorin was to accompany the great violinist Mikhail Pochekin. And it was since that moment there, when I heard him play, that Favorin became one of my favorite pianists, because you have to be a really great musician to make other musicians shine, especially when you are brilliant on your own, one of a kind. From that short meeting in the green room after the concert I got the impression that Yury Favorin was quite an introspective person, profound, but I also had the intuition that if someone would find the key to open the door of this incredible artist's personality, then you could discover an affable man and a notable conversationalist. A year and a half later, I don't know whether it was by chance or because I could really find that opening key, I could talk to Yury Favorin and speak about what he likes the most: music. Please, do me a favour and listen to Favorin: his performance of the Etudes op. 2 by Prokovief is pure fire and, in my opinion, has no equal.
How did you start in the piano world?
Actually, my first instrument was the recorder. I started to play it when I was five. I had a clarinet teacher and when I was about eight or nine years old, I entered the Gnessin State Musical College and took up both clarinet and piano. Soon it became obvious that my piano was better than my clarinet. I studied composition when I was fifteen and I entered the Moscow Conservatory in 2004, when I was about 17. Then I transferred to piano studies and I stopped playing clarinet. Since that time, I just play piano and do a little bit of composition as well.
So, you don't play clarinet any longer?
I just play piano. I don't play clarinet.
Are your parents musicians?
No, my parents are not musicians. My grandmother studied a little bit in a simple music school, but she didn't finish her studies. But all her life she had a dream that somebody in the family could play piano and make music. That was first of all her idea for me to start with music. She brought me to the music school.
When did you start thinking about a professional career as a pianist?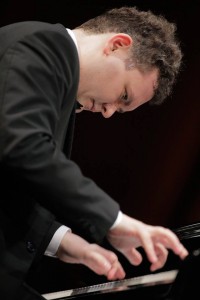 I think it was around the second year at the conservatory, when I had to prepare for the Olivier Messiaen Competition in Paris. I had a kind of small success. That was the time when I saw it could really be my profession.
Now that you have mentioned a competition, what's your opinion about piano competitions?
I don't think I can say anything interesting about them. Most of young pianists take part in these competitions because they want to have recognition, they want an audience who can listen to them and know them. But on the other hand, the idea of competitions for artists is a little bit strange. And that's a problem.
When you finished your studies as a pianist and you started your career as a young musician, was it hard to get concerts?
I don't know. When I played in Paris and after the Queen Elisabeth Competition in 2010 in Brussels, I started to receive offers to play some concerts and, somehow, it continues until today! [Yury laughs].
I asked this same question to Lugansky some time ago: do you think there is such a thing as a Russian school for pianists, a French school, an American school, etc?
If you ask me about what the main features of each school are, I think it would be difficult to judge from the inside, because I studied in Moscow. If you talk about, for example, Richter or Guilels or some other great Russian pianists, they are all so different that you hardly can find something common among them. But I think one of the ideas that the piano sound should be produced with a whole weight, not like easy fingers sound, I mean, the deep sound of the whole weight of the whole arm, of the whole body. This is one of the things which maybe you could call Russian school, but it's difficult for me to talk more about it.
Let's talk a bit about your recordings. I have two of your CDs: Alkan Piano Works on Muso and Yuri Favorin Piano on Melodiya with works by Prokofiev, Popov, Shostakovich, Rebikov and Feinberg. I have listened to your CD Yury Favorin Piano many times and I am still really impressed by your playing of the Prokofiev Etudes op. 2, specially the first one. And when I saw on the internet the video of the Cliburn Competition where you also play this etude, I could check it was the real McCoy: it was your hands that produced that fantastic sound. It's absolutely out of this planet! When you look back, which albums do you feel more proud of?
I think the CD you have just mentioned is the best for me, because I was totally involved in it, not only the playing but also the program, working with the sound engineers. It took more work, it was harder for me than other CDs.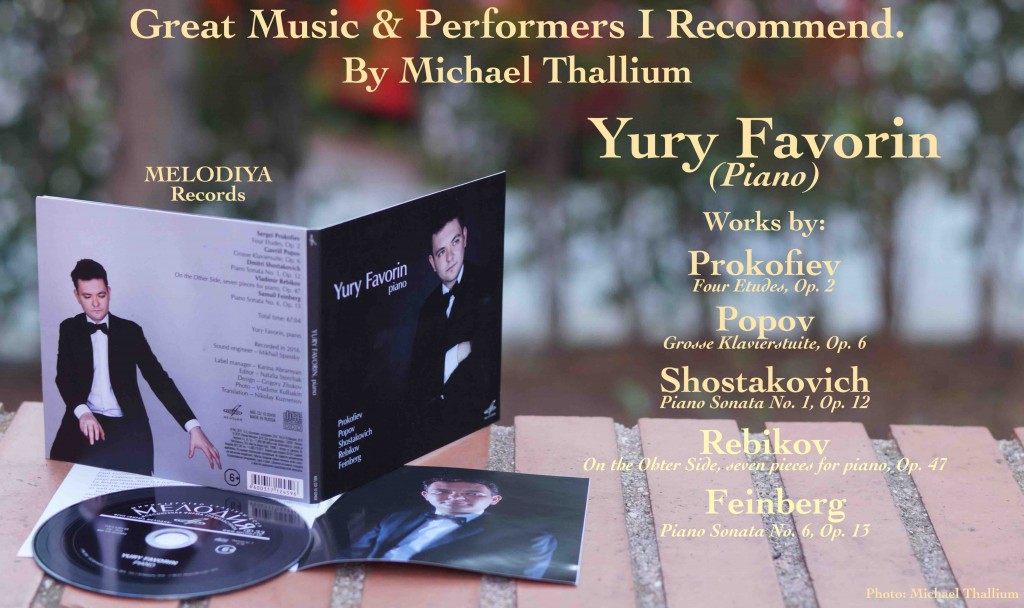 What's the repertoire you think you play the best?
I like many different pieces of music and many different composers… Of course, I have some favorites, but I like Classicism, Romanticism, modern and 20th century music. So, I can't tell, because I love so many different kinds of music.
What are your challenges as a pianist?
Just to play as well as I can. This year I would like to record live the three whole suites of Years of Pilgrimage by Liszt. It will be soon, in two weeks time in Moscow. The whole concert will be this Listz cycle. It will be recorded on Melodiya and I hope it will be released soon. It will be the most interesting and big work from me in the future.
I know you have a band, a very modern music band, a kind of experimental or improvising music band…
It's a band where I am composer too. It was a trio where we tried to improvise. We had some concerts but now we are not active, mainly because it was a bit difficult to organize concerts with percussion. But I still play some improvised music with these people and some other improvisers. There are some CDs around.
You studied composition, have you ever thought of a career as a composer?
I thought about it, but after I had some success as a pianist, I switched to piano.
What do you prefer piano solo music or chamber music?
I love both! I like solo, I like chamber, I like playing with an orchestra. Piano is big, it's great but it becomes greater in collaboration with other musicians and artists.
Have you got any plans to come over to Spain to play in the future?
Of course, I would like to, but I don't have any concerts yet. I'm really fond of Spanish audiences. I haven't been too many times in Spain, but I really like how Spanish people live.
If you would have to think of a program for a concert in Spain, what works would you play?
Of course it would be very interesting to play some Spanish composers. I'm really fond of Albéniz.
Are there any pianists that you admire?
There are many pianists and it would be hard for me to say, but I love Vladimir Sofronitsky. He was a great pianist, not a virtuoso, but he was really a great musician. I like Richter as well, but there are so many other great pianists…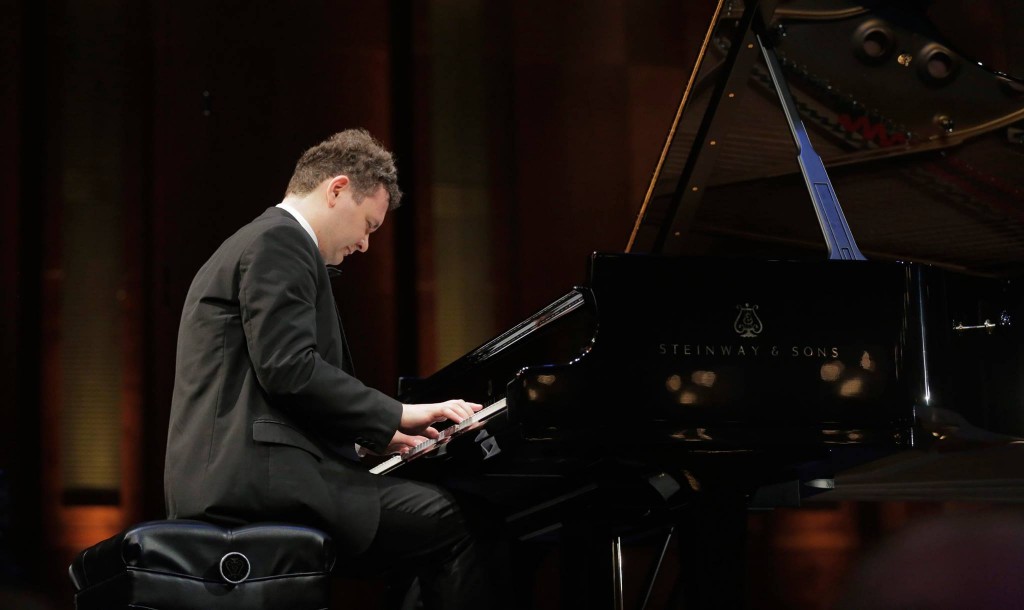 Could you name three qualities you have as a pianist?
I'm not sure I can do this. Actually, I never hear myself as a listener. I hear myself, of course, when I'm studying, but not as a whole after I make a record. I think other people should say something about it. Not me.
Then let me ask you this in a different way. Could you tell three qualities of yours as a person that you think may reflect on your playing?
I think the same. It's really hard for me to say…
Well, I think I could say one. I guess you are quite a profound person, you like to go deep into things, you like depth. Maybe I'm wrong, because I only met you once if you remember at Fundación Juan March in Madrid back in February 2018. However, I've got the feeling you look for depth. Would you agree?
I can't say, honestly. I really love music and, of course, many people can say the same. This is not a very special thing to say.
I always ask musicians about this. When you go to concert halls, you may see very old people in the audience, not very young people. What would you say to young people for them to listen to classical music and attend concerts?
I don't know what I can say. I just think there are special ways of getting involved into classical music. Maybe young people don't like to hear a lot of Mozart. It's great music, but maybe young people, at least in Russia, prefer to listen to Stravinsky. There's always a special composer they can connect with and enter the world of classical music!
Michael Thallium
Global & Greatness Coach
Book your coaching here
You can also find me and connect with me on:
Facebook Michael Thallium and Twitter Michael Thallium