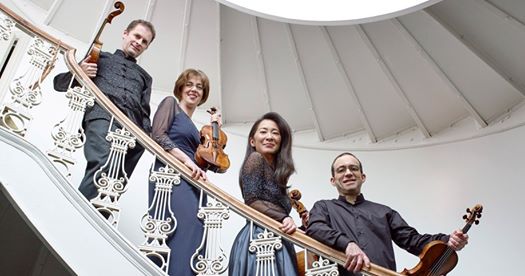 It was cocaine and heroine. He was found dead in his bathroom by a friend. He had a syringe in his arm. Philip was 46 and, as the song goes, «only the good die young». I must admit my lack of knowledge when it comes down to films and I didn't know he had such a long and successful career as an actor. But when I heard of his death in 2014, the first image of him coming to my mind was his performance in «A Late Quartet», a 2012 film inspired by Beethoven's String Quartet in C# minor Op. 131. The film received positive reviews in general and the cast of main actors was great indeed: Philip Seymour Hoffman, Christopher Walken, Catherine Keener, Mark Ivanir and Imogen Poots. However, few people know that the music of the film was performed by the Brentano Quartet. Actually, one of the members of this American quartet, the cellist Nina Lee, appears at the final scene replacing Christopher Walken. And the thing is that despite the great performance of the actors, this film particularly without music would come to nothing.
The Brentano Quartet was founded back in 1992 at the prestigious Julliard School and is named for Antonie Brentano, believed to be Beethoven's "Immortal Beloved". In 1998, the cellist Michael Kannen left the quartet, following his wife's injury in an automobile accident, to care for his young child. Kannen was replaced by Nina Lee and the line-up of the Brentano Quartet has remained the same for more than 20 years now: Misha Amory (viola), Serena Canin (violin), Nina Lee (cello) and Mark Steinberg (violin).
This American quartet will be on tour around Spain in January 2020 visiting Murcia, Valencia, Orense, Pontevedra and Lugo. They'll be performing emblematic works of the string quartet repertoire: the Quartet in A major K. 464 by Mozart and Beethoven's Quartet in A Major Op. 18 No. 5 and the Quartet in E-flat Major No. 12 Op. 127, the first of Beethoven's late quartets.
SPANISH TOUR IN JANUARY 2020

Monday 13th. Auditorio Victor Villegas. Murcia.
Tuesday 14th. Palau de la Música. Valencia.
Wednesday 15th. Teatro Principal. Orense.
Thursday 16th. Teatro Principal. Pontevedra.
Friday 17th. Circulo de las Artes. Lugo
Michael Thallium
Global & Greatness Coach
Book your coaching here
You can also find me and connect with me on:
Facebook Michael Thallium and Twitter Michael Thallium