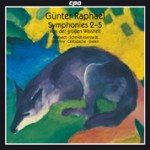 Just a couple of weeks ago, one of Günter Raphael's granddaughters surprised me with a really nice present: a CD with symphonies by German composer Günter Raphael (1903-1960). I had never heard of him before. Raphael died in 1960, forgotten by most people. I was surprised twice, namely: I got to know about a new composer for me and I also found out  that Gabriela Pieschacón Raphael —I have known her for some years but due to different professional issues, rather than music at all— is the granddaughter of this great musician of the 20th century, forgotten by music history. I have been listening to these symphonies whenever I had the chance ever since. It was a present that I really treasure.
I am quite a curios person by nature. So I started to find out about Raphael on the Internet but I was surprised there is only little information about him and even less of his music on Youtube, for instance. However, in case you are interested, you can find a page dedicated to him on the BBC: Günter Raphael's page on BBC.
In my profession as a life and executive coach,  I like to contribute to diseminating everything which can enrich people's lives. No wonder this music does!
Michael Thallium
Global & Greatness Coach
Book your coaching here
You can also find me and connect with me on:
Facebook Michael Thallium and Twitter Michael Thallium