(Text originally written in Spanish by orchestra conductor Victor Morales.
English version by Michael Thallium)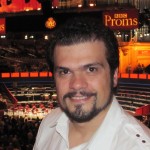 The fact that our present Spanish music educational system includes the orchestra as part of the curriculum has allowed hundreds of young music students to gain access to this activity, essential for the personal development, which can turn into their career in the future.
This element and their enthusiasm for playing music has led to the dawn of a big number of youth orchestras and bands, mostly amateurs. And some of them are called to be professional someday.
It could not be otherwise! Just think about the great benefits such an activity can provide at a personal level as well as at a social level. Among the virtues of it, I would emphasize the educational element, not only from a technical and musical point of view, but also from a human point of view, because symphonic music is based on ethical and aesthetic principles. This involves a great knowledge musicians must have on aesthetic, philosophical and historical terms and concepts.
An symphonic orchestra is a tremendously efficient means of socialization and personal development. Orchestras represent a model for a perfect team, because the final result depends on the will, cooperation and efforts of every single member of the orchestra. This involves compromise and discipline by the musicians when they want to be part of a group.
Another thing I would like to emphasize is the versatility of the symphonic groups. You can design projects based on music from different times and genres and you can even create a music fusion between apparently so distant styles such as hip hop and symphonic. This involves varied and rich programs, devoid of prejudices, but also with a good deal of common sense. It is not about doing "anything", but to achieve "something" coherent regardless of the music genre you are dealing with.
But I would like to go even deeper. These kind of music groups are a platform to provide young musicians with protection and opportunities to escape social exclusion and marginalization. As a paradigm of it, we can find the fantastic project of the Venezuelan economist Juan Antonio Abreu. His National System of Youth and Children's Orchestras of Venezuela and his Symphonic Orchestra Simón Bolívar was awarded the Prince of Asturias Award for the Arts 2008.

And just to finish this short article, I would also like to pass on the idea that, even if it is true that not all of the members of a youth orchestra will end up dedicating their lives to music as professionals, however, I have the hope they will become great music lovers and expert audiences at concerts and they will contribute to strengthen this activity in our society and, even better, in their own lives. Bravo to them!
Víctor Morales
Pianist and Orchestra Conductor