The 4th coachtulia was held yesterday, Friday 18th February 2011, at the "Ateneo de Madrid", in the room Manuel Azaña. The topic of our gathering (combining coaching and debate) was "How the hell can we discover our talent?". We watched two short videos, one of Joshua Bell and another one of Rachel Flowers performing with Arturo Sandoval, in order to show that:
talent goes unnoticed in an inappropriate environment,
to live on your talent, it has to be acknowledged and valued by others.
We also listened to a beautiful choral music, Maria durch den Dornwald ging, by Günter Raphael to show that your talent can be forgotten as well and you need the help of others to rescue it from oblivion.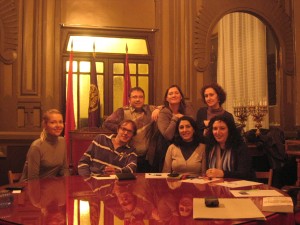 Those present: Carla Franco, Carmen Cayuela, Victoria Caro, Fran, Bárbara, Teresa Gómez, Sonia Heras, Karolina Kuleczka and Michael Thallium (on the picture Carmen and Bárbara are missing).
This is what happens when talent is in an inappropriate environment:
Michael Thallium
Book your coaching