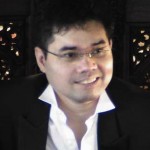 It was a rainy day of April in Spain. I got up early because I had an appointment and a long trip to go by car from Móstoles in Madrid to Muriedas in Cantabria, in the north of Spain. I was meant to meet the person I had seen play the piano with the Ensemble of Cadaques at the Centre for Dissemination of Contemporary Music in Madrid three years before. Back then, I decided to request his friendship on Facebook and we have been in touch ever since. However, that morning of April would be the first time we met. I wanted to interview him. And that was my only chance, because he would be going to Holland on the following day and, after that, to Indonesia for a couple of months, not coming back to Spain until August. So I took my chance: I would be meeting maestro Ananda Sukarlan.
Ananda is based in Spain, but he often travels to different countries in the world, above all to Indonesia, where he was born. His activity as a composer and interpreter have led him to get involved in different projects both in Spain and Indonesia. He collaborates with Spanish composer David del Puerto and the Open Music Foundation based in Urueña, the Book Village in Spain. Ananda writes music for disabled children as well. In Jakarta, his hometown, he established The Indonesian Classical Music Foundation to help underprivileged as well as disabled children through music and arts.
When I arrived in Muriedas to Ananda's house, it was as if I would have known him for a life time. We talked about many things. We spent six hours together and I met Raquel, his wife, and Alicia, his daughter, to whom Ananda dedicated his Alicia's First Piano Book.
Here you can see an excerpt of the interview:
(If you wish to see the whole interview, please HERE):
I have already written about the importance of music for the human brain in some other articles. I use it when I do coaching, in my seminars, workshops or when I teach languages. That may be the reason I felt total conexion when Ananda told me about his foundation, because one of my life projects is to create an institution to boost creativity and intelligent effort in Asia, Africa and Latin America.
I know Ananda and I will collaborate in some project someday. He does not know yet, but I do. And I am sure we will see each other soon again.
Michael Thallium
Global & Greatness Coach
Book your coaching here