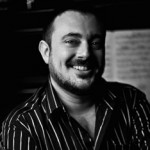 Almost a week ago, I was at a fantastic recital. The pianist was Federico Lechner. I had met him by chance hardly a week earlier at another fantastic recital by the Japanese pianist Asuka Nakamura. Federico was sitting in the audience just behind us. During the break, my friend and pianist Julio César Setién introduced me to Federico (I had never heard of him before) and this is how I got to know that he would be playing in the same place one week later: Los miércoles de cámara organised by my friend and violinist Shahar Rosenthal. I said to Federico "We'll come to your recital next week. See you there". And that's what we did!
Federico is not only a great pianist but a really nice person.
A week later, accompanied by the person who had introduced me to Federico, I came to see him play. And it was simply fantastic. In the second part of the recital, Federico started improvising a la Ligeti on the notes that we in the audience were telling him. First on two notes, then three, five, seven and nine notes. Here you are a sample:
To see the other four improvisations:
Ricercata Improvisata (3 notes)
Ricercata Improvisata (5 notes)
Ricercata Improvisata (7 notes)
Ricercata Improvisata (9 notes)
Federico searched for the music among the notes we were telling him and he found an enthusiastic audience!
Michael Thallium
Global & Greatness Coach
Book your coaching here