"Marie Jaëll has the brains of a philosopher and the fingers of an artist."

Franz Liszt (1881-1886)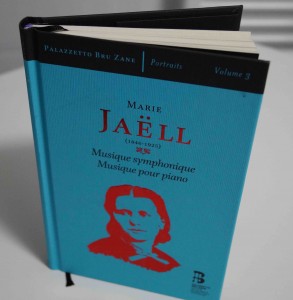 Today I would like to write something about Marie Jaëll (1846-1925) of whom I knew nothing at all until some months ago. Juan Lucas, founder of La Quinta de Mahler, talked to me about her quite well and recommended me a recording of her music published by Ediciones Singulares in Spain. That was some ten months ago or so. I did not buy that recording back then, but it remained in the back of my mind somehow. Months went by and then, on July 16th, which in Spain is the day of Virgen del Carmen (patron saint of the seas), I decided to give that recording as a present to a friend of mine, Carmen González Castro, a painter and a woman of great musical sensitivity (by the way, you can have a look at her paintings here: Carmen's Work). I told her that I hardly knew anything about Marie Jaëll and that I had not even listened to the recording either, but someone, whose musical knowledge I really trust, had talked to me about Marie Jaëll quite well some months back. A couple of days later, Carmen called me and said Jaëll's music was great, it had strength! So, in the end, I ended up buying the recording for myself as well. The set comes as a limited edition book, in French and English, with three CDs.
I think the work of Marie Jaëll deserves to be disseminated, and that is why I write this short article: maybe some reader is curious enough to find out about her life and work. She was a female composer in a music world made of and for male composers. She was a constant learner (I study relentlessly, she used to say) and a very hard worker.
I work, I work and I am doing wonderfully… although this shouldn't be declared to openly. You know that I am not the same Marie who you have loved before, the composer of four-handed waltzes, who used to play the piano, who used to sew, who used to talk – I am a new person, brand new, who only composes and is absorbed in herself. Many things arise from such absorption, the result being that I am completely different… Someday or other, to watch me, you will have to plunge yourself into vast books, your head, ears and fingers all going to an awful lot of trouble… (Marie to her friend Anna Sandherr, November 26, 1877)
Marie Jaëll was born Marie Trautmann in 1846. When she got married to pianist Alfred Jaëll in 1866, when Marie was 20 years old, she took her husband's surname as it was tradition in those times. She kept that surname until the end of her days, despite she became a widow very early, in 1881, when she was 35 years old.
I wish these lines would make someone reading them to have a look not only at Marie Jaëll the composer and pianist, but also Marie the pedagogue who even tapped into the realms of neuroscience…
Michael Thallium
Global & Greatness Coach
Book your coaching here
You can also find me and connect with me on:
Facebook Michael Thallium and Twitter Michael Thallium