"Awards are wonderful. One loves to get them, but the most important thing is I hope that my legacy will be to have written music that will mean a great deal to people. And also, since I've bee a teacher for so long, I've been blessed with the most talented students imaginable. I've had hundreds and hundreds of students who have really made it. And that to me is a great satisfaction and a real reward rather than an award. My father was a wonderful man and he always taught that the aim of life should be that when one passes away, people will say that this life made the world a better place." – Samuel Adler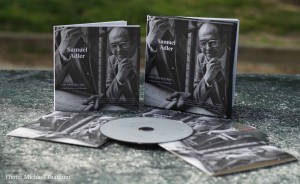 The title on that cover caught my attention. It was a CD box. A white and black picture of an old man wearing glasses and slightly smiling was featured; his chin upon his right hand holding a pencil. The text read: Samuel Adler, One Lives but Once – A 90th Birthday Celebration. I took the box in my hands. After I cursorily read the information about the tracks contained on the CDs, I looked at Jose, one of the shop attendants at La Quinta de Mahler LQM, a wonderful cultural and musical corner in Madrid I often visit, and I asked him:
"Do you know this composer?"
"I have no idea!" he answered most candidly.
Coming from Jose, who I consider quite a knowledgeable person when it comes down to classical music recordings, that comment made me have a think coming and I did not buy the aforementioned CD box. I put it back on the table and thought to myself: "I'll find out about that Samuel Adler when I get home." I bought another CD instead that Jose recommended me: Edvard Grieg's Incidental Music to Peer Gynt and his famous Piano concerto in A minor, a recording on label Chandos. I must say that his recommendation was top notch: once you listen to Grieg's incidental music to Peer Gynt (with choir, three sopranos and a baritone), then his Suite of the same name sounds but a little faulty.
I week later, I wanted to come back to LQM so that I could personally thank the "recommendator" because he had nailed it with his recomendation. Meanwhile, I had also been making my inquiries about Samuel Adler. He was born in 1928 —the same year as the composers Einojuhani Rautavaara and Karlheinz Stockhausen, although they both have already passed away— in Germany, but his family fled to the United States in 1939 when he was eleven. American nationalized, Samuel Adler is a very prolific composer with an awesome Curriculum Vitae —by the time I am writing these words, he is 90 years old… and still kicking!— He has written more than 400 works in all musical genres: operas, oratorios, symphonies, concertos, string quartets… Adler has devoted a great deal of his life to teaching. He is also the author of several books, of which I would like to highlight The Study of Orchestration and his autobiography Building Bridges with Music, which I am willing to read as soon as I get it —I ordered it online yesterday—. He studied with Paul Hindemith, Aaron Copland, Walter Piston, Paul Pisk, Serge Koussevitzky and Randall Thompson… No more no less!
This time, when I got back to LQM, I did buy that CD box on the Scottish label Linn Records. I had the feeling that what had caught my attention a week earlier might hold something great to be treasured. Anyway, the occasion was worth it: an experienced composer, still alive but new to me, whose music I could discover. Actually, while I am writing these lines, I am listening to One Lives but Once, that particular celebration of a 90-year-old man with so many life experiences and things to say. In his music, you can taste American flavours, but it also has a lot of European flavours. I would say Samuel Adler absorbs and merges all different currents in Western concert music. The box contains three CDs with symphonies 1 & 2, the Concertos for piano, violin, guitar and windwood quintet, Five Scherzi for choir, guitar and viola, Man lebt nur einmal (One Lives but Once) for orchestra, Into the Radiant Boundaries of Light for viola and guitar and Ports of Call for two violins and guitar.
It is true that I had never heard of Samuel Adler until that day I came across his CD box at LQM, but now I am struck by the fact that this composer is not mentioned more often. Not even Alex Ross on his best seller The Rest Is Noise writes a single word about Samuel Adler. This may be the prize to be paid by those who devote themselves to teaching for so many years: their work may affect eternity, but it is overlooked by most people.
To squinge 90 years of existence in just a few lines is impossible. One lives but once… Let's just keep open-minded to everything yet to be discovered and said.
Michael Thallium
Global & Greatness Coach
Book your coaching here
You can also find me and connect with me on:
Facebook Michael Thallium and Twitter Michael Thallium