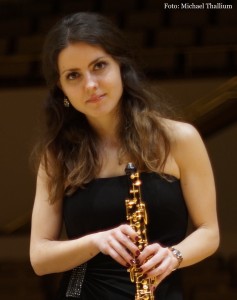 Let's be clear! Cristina Gómez Godoy is not a friend of mine. In fact, we have met and spoken just once after a recital at Auditorio Nacional in Madrid, Spain, when she played along with cellist Pablo Ferrández and pianist Juan Floristán (see El mago, el cisne y la encantadora del viento) back in March 2018. Cristina is an oboist from Linares, Andalusia. She currently develops her career as a soloist for the Staatskapelle Berlin in Germany. And what an achievement!
Today, 13th of May, is her birthday, and I thought the best present she could have from almost a perfect stranger like me is the acknowledgement for her work and music, wishing her enthusiasm in her career and, most importantly, in her life. The ancient Greek believed that when a person was enthusiastic, she had the chance to transform the reality around her. Actually, this is the meaning of  the word enthusiasm: "en + theos", to have a god inside.
So, Cristina, in your 28th birthday, this is what I wish for you: enthusiasm to keep enchanting the winds of music with your oboe and leading a full life with love around you. May this ability to transform things be always with you!
Michael Thallium