On Monday 10th February the 2nd International Violin Competition "CullerArts" was presented at Longoria Palace in Madrid, the headquarters of SGAE (Spanish General Society of Authors and Publishers). Organised by the Cullera Town Hall and with maestro Cristóbal Soler as music director, this competition opens up a new pathway for composers by incorporating a composition award. The presentation started with a few words by Pilar Jurado, president of SGAE. She spoke about the partnership agreement between SGAE and the Cullera Town Hall to create this new composition award. "There is no better way to celebrate the 120th anniversary of SGAE than by creating an award which can help to generate new repertoire for violinists around the world. It's one of the many actions we will carry out in 2020 to boost the repertoire and encourage our creators so that they can keep making history", she said. Then Jordi Mayor, Cullera's Mayor and one of the main supporters of this project, highlighted the collaboration with SGAE in the creation of the composition award, which will give a greater international reputation to the 'CullerArts' violin competition: "It's an opportunity not only for performers, but also for composers who can do their bit for the repertoire of violin solo".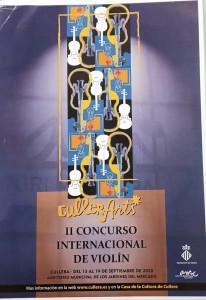 Cristóbal Soler spoke about the awareness of some Spanish regional administrations, specially those in the region of Valencia, to carry out sustainable musical projects in case of eventual economic crisis: "When you are creating a project such as this violin competition, it's fundamental that the administrations can guarantee their sustainability and continuity".
This second edittion will consist of an eliminatory round where participants will play for 10 minutes each. They will have to perform one Paganini Capriccio of their choice and a slow movement of a Sonata or Partita by J. S. Bach. There will only be eight participants at the semifinal and they will have to play virtuosic works with piano accompaniment (this round will be opened to the general public). The three finalists will perform their works accompanied by the Symphony Orchestra of Valencia.
Violinists from around the world aged 17 and 27 can participante in this competition. The registration period will be between February 17th and May 30th 2020. Applications and required documents (see www.cullera.es) will be sent to casacultura@cullera.es.
The event concluded with the signing of the partnership agreement between the Cullera Town Hall and SGAE. The composition prize is endowed with 2.000 €. The award winning work, —for violin solo and 7 to 8 minutes long— will be announced at the final of the 2nd International Violin Competition and it will be performed as a compulsory piece for the next edition of this competition in 2021.
Michael Thallium
Global & Greatness Coach
Book your coaching here
You can also find me and connect with me on:
Facebook Michael Thallium and Twitter Michael Thallium