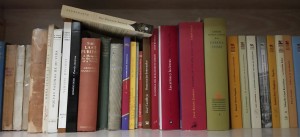 No, reading won't make you a better person. My life has been full of travelling and books, but this hasn't made me a better person. My life has also been replete —although not complete— with music. I have been encouraging reading, disseminating music and sharing my knowledge —much or little; probably negligible— for many years. I have experienced and managed some emergency situations in my years on cruise and expedition ships. One of my phrases back then was: «A ship reflects what is happening in the world, she is a small world of her own; the difference is that, on a ship, everybody gets their salary by the end of the month». Yes, ships may sink, but it's very unlikely that that happens…
Another one of my phrases, which has been accompanying me for a big deal of my life is: Why won't people read more? For some time my answer was: «It's normal that people don't read; the lives they live, the lack of time, the family chores and occupations of all kinds don't allow them to do so». Well, it seems that now, in March 2020, a new situation occurring in the world might give an answer to that question. A microscopic particle —a toxine, an invisible venom— has made millions of people to be confined to our homes, to lose our paid jobs, and this may temporarily leave us with more time to read. Will people read more books? My opinion is they won't. Reading, apart from the time it requires, it also requires considerable intelectual effort. Over the last years, I have come to think that more than a habit, reading is an attitude and who knows if it's also an aptitude. Anyhow, reading won't make us better persons. Then, why encouraging to read? To discern. Discernment leads to critical thinking —not judgemental neither querulant— and precisely that critical thinking saved my life in the emergency situations I went through on ships. So, read to save your lives even if that takes you a bunch of years!
P. S.: Change the word 'reading' for 'music' and the result will be quite much the same (but that's another story).
Michael Thallium
Global & Greatness Coach
Book your coaching here
You can also find me and connect with me on:
Facebook Michael Thallium and Twitter Michael Thallium