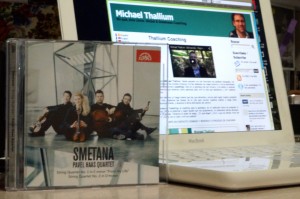 Today, around noon, I walked into La Quinta de Mahler (LQM), a place I usually go to and of which I have written in some other articles. Since I couldn't find what I was looking for, I asked Juan Lucas, the person in charge of this extraordinary music shop in Madrid, if he could recommend me any new records. Right away I heard, Marina – Juan's partner – say out loud "This one!" She was sitting in an armchair organising some CDs. I looked back and saw her holding a CD of the label Supraphon. It was a recording of Bedřich Smetana's quartets nos. 1 & 2 performed by the amazing Pavel Haas Quartet. A wonderful performance, by the way. The extraordinary Pavel Haas Quartet is made up of Veronika Jarůšková (1st violin), Marek Zwiebel (2nd violín), Pavel Nikl (viola) and Peter Jarůšek (cello). I bought the CD and left the shop to attend some professional matters. I had to wait until the evening in order to listen to this music. And I did it in a way that not a few may find a little strange. I recorded the CD on my computer and I transfered it to my iPod. Then I went out to do some physical exercise, headphones on, and listen to Smetana's quartets while I was biking in the countryside. Who the heck is going to do some sport and listen to chamber music, even more, to the string quartets of a Czech composer unkown to most inhabitants on this planet!! Yes, there are some of us who may be a little bit "weird" and do this sort of things. But I could also say that the "weird" ones are those too many millions of people who don't do that and are missing that experience… Anyway, the thing is that I ended up doing three things in one, my particular "3 in 1" session: exercising my muscles (body), unleashing my thoughts (mind) and delighting my ears with beautiful music (spirit).
Bedřich Smetana (1824-1884) wrote his String Quartet no. 1 in E minor, entitled "From my life", between October and December 1876, that is, at age 52, two years after he had gone deaf. This Quartet was performed for the first time in April 1878 — by the way, for the occasion it was Antonín Dvořák himself on the viola —, in Josef Srb's apartment. Srb had been playing the role of secretary since Smetana had gone deaf in 1874. In a letter dated 12 April 1878, Smetana told his friend Josef Srb the following in regards of his quartet:
"I wanted the notes to depict the course of my life [..] The first movement: Affection for the arts in my youth, romantic predominance, ineffable desire for something I could not utter or clearly imagine, as well as the quasi-premonition of my future misfortune, the long sounding tone, which in the finale rose from the beginning, is the fatal whistling of the highest tones in my ear, which announced my going def in 1874. I ventured upon this small triffle because it was so viatal for me. The second movement: The quasi-Polka takes me back to the merry life of my youth, when as a composer I showered the young world with my dance pieces, myself having been known as a passionate dancer, etc. The middle moevment: Meno vivo, in D flat major, is the one that in the opinion of the players [...] is by no means possible to perform. Purity of the chords allegedly cannot be attained; I point out that the tones in this moevment depict remainders of the aristocratic circles I lived among for long years. The third movement: The Largo sostenuto evokes the bliss of my first love for a girl who would later become my faithful wife. The fourth movement: Getting to know the manner of the folk music element, the joy of the result of this yourney, until it was disrupted by the ominous disaster of mine, the beginning of deafness, view of the dreary future, a little ray of hope for improvement, yet still a painful feeling in the light of the ouset of my career. This was perhaps the purpose of this composition, which is almost entirely private, therefor wittingly written for 4 instruments that in a narrow circle of friends are supposed to talk among themselves about that which has moulded me so eminently. Nothing more. [...] I did not intend to write a quartet according to the formula and according to the custom of the usual forms."
All those things Smetana was talking about in his letter are the ones I tried to listen to while I was biking in the nature. And, certainly, it is true that when you're listening to this work that high tone (whistling) depicting the composer's deafness is as unmistakable as striking.
In regards with the String Quartet no. 2 in D minor, Smetana completed it in March 1884, that is, a year before he died. In a letter to his friend Srb, Smetana he said:
"I have finished the quartet's first movement, yet I am nonplussed as regards its texture, since the movement has a truly extraordinary form and is difficult to comprehend, with a kind of chaos dominating throughout, which, it would seem, will cause great troubles for the players – it is a consequence of my unfortunate living. – I feel limp, sleepy and I am afraid that my musical ideas are slowly losing their vitality, it appears to me that everything I treat musically in my brain is somewhat cloaked by a mist of despondency and grief."
This quartet was premiered again in Josef Srb's apartment and Smetana could "hear" it, visually and in his imagination. In a letter to Srb of 24 May 1883, Smetana expressed his satisfaction:
"The quartet has begung gathering strength and I will definitely have it printed, since it is good, featuring melodic elements, it is abounding in emotion and novelty."
However, the quartet was not published until after Smetana's death, and the first critical edition of the score would not see the light until 1944, sixty years later.
When I came back from my particular "3 in 1" session — body, mind and spirit exercise —, I opened my email inbox and saw the following email from a good friend, Julio Mora, with whom I shared long walks and enriching conversations in the last years — by the way, he is an engineer and a master of Nativity scenes; he also has a very interesting blog in Spanish called Belenes en movimiento (Nativity Scenes in Motion):
Michael:

This is for you to recommend it on your blog, assuming you find it interesting. Some days ago, I was in Siena (Italy). Just oposite the espectacular façade of Siena's cathedral, there is a very modest church. Since I am a little weird traveller, I walked in and I had one of the best surprises in the last years.

A choir, all dressed in green, was rehearsing. The impact it made on me was so strong that I stayed insde the church until the end of their performance. When they finished, I stood up and started to clap my hands like a fool. Inside the church, apart from the choir, there were no other people but my wife and I. The choir conductor walked up to me and made a bow. I still have a lump in my throat when I recall that experience.

Will that be what you feel, those of you who really understand music? What choral will that be? Maybe some of your friends know something about it.

Searching in Google, I think the church's name is Santissima Annunziata.

You don't have to understand music to enjoy it. Certainly, the more your knowledge is, the more nuances you will perceive. But enjoyment takes a very different way from that of savvyness. I am glad to know that my good friend Julio really enjoyed that choral music, specially knowing that in more than one occasion he told me he was tone deaf and he did not understand music. It is a matter of choice and opening your ears. And as it happens with every choice you make, it is a matter of elimination. When you make a choice or a decision, in that very moment you make it, you are eliminating some other millions of possible choices. That is why it is important to know what decision you are making and, even more, to be aware of the things you are putting aside when making your choice…
Julio's experience feels just right to conclude this article. I encourage you, whoever is reading these words, to listen to "From my life", Smetana's first string quartet. He would be astonished if he would know that some 130 year after his death, someone could enjoy "his life" while biking in the nature and listening to a string quartet inside a tiny device… I am sure Smetana would laugh out loud with vehement disbelief. These are the wonders of technology!
I thank you, dear reader, for keeping your interest up to here. I hope your choice of reading this article up to the end has helped you appreciate your time and all those things you stopped doing when you started reading these lines. I'll be more than happy, if there is something you have learnt from it.
Michael Thallium
Global & Greatness Coach
Book your coaching here
You can also find me and connect with me on:
Facebook Michael Thallium and Twitter Michael Thallium